Publicatie in DPI magazine Taiwan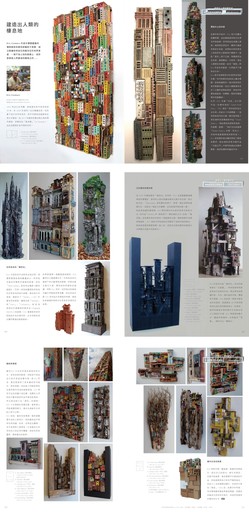 In januari 2019 werd er een artikel gepubliceerd in het Taiwanese DPI; een tijdschrift voor en over kunstenaars en vormgevers. De gepubliceerde pagina's worden hier getoond. Omdat het Taiwanese schrift voor Westerlingen niet leesbaar is, volgt hier de tekst, zoals door de redactie van DPI vertaald in het Engels.
Eric Cremers
Born in the Netherlands in 1953, he worked as a high school art teacher for 28 years and became a full-time artist in 2010. When traveling with his wife around the world, he got fascinated by the architecture and housing style of different countries. In 2012, Eric moved to on the Caribbean island of Bonaire, where he found suitable materials that he can use in his art works.
Building a habitat for humans
Village on driftwood
When making a new piece, Eric seldom make a design first. The process often is that Eric found a beautiful driftwood on the beach, thought it looked like a rock surface, and began to imagine about what it would be like to add his colorful shacks on the wood. After he "built" the houses, he try to show that the village is inhabited by adding laundry lines, pots and pans, and electrical parts that may remind of air conditioner. These details are very important to Eric, they give life to the habitat.
How Eric create an art work fully depends on the way he choose to present his subject. Sometimes he makes a basis of cardboard that already shows the composition. On other occasions he start making a wooden frame to put the presentation in. The shacks are made out of 3 mm thick MDF. The rest of materials consist of waste materials like cardboard, palm leaves, branches and computer parts
In addition, Eric will also "recycle" his work. Like "Cyberpunk City" a few years ago, Eric was very interested in "combination of lowlife and high-tech" and want to make more art works in the Cyberpunk style. Recently, Eric suddenly got an idea. The work "Downtown" which was exhibited in Miami years ago was cracked and damaged due to the process and temperature of the delivery. "Maybe try to take it apart completely and use these parts to become the basis for a couple of Cyberpunk art work?" Eric said it reminded him of artist Rodin, who, in his Gate of hell, used several statues that he did before, meant to be singular art works.
"Habitats" around the world
All slums Eric ever did in reality are the product of his imagination. The number of art works that are actually inspired by existing buildings is only small. Sometimes he is also inspired by the
architecture in the film, such as "Rock tower", which by the way was inspired by a structure shown in the movie 'Planet of the apes'. The other part of the inspiration comes from his travel experience around the world, like after he traveled to India, he created "Haveli"; the journey of Morocco in 2011 let him complete "Kasbah" and "Ksar"; "Cathedral" Inspired by Gaudí's Sagrada Familia in Barcelona, ​​which Eric chose to use household foil to be the most important material to present the solemn and complex architectural style of the Sagrada Família.
If he has to choose a favorite country, Eric thinks he will choose Cuba. The Batista era left a lot of beautiful buildings, but since the introduction of communism, causing the weathered appearance they still have. However, for Eric, these traces of weathering only makes them look more interesting and beautiful. Maybe this is why Eric's works usually look old and worn out, he believes that worn out things show more character and stories.
Colorful slums
When starting the series of Habitats in 2010, Eric was suffering from a depression as a result of a severe burn out. The psychological state at that time made him prefer to make things that were dark colored and somber. "Desolate" is the best example. It shows an abandoned village at night. Works like this showed his state of mind in that period.
Because of the desire to really want to escape this mood, Eric started looking for a subject that would allow him to use more colors. In the work "Favela", he found a suitable way. Since then, "slums" have become another important theme in the habitat series. The more slums he made, the more Eric discovered they offer him an endless range of possibilities to use his fantasy for there's no two slum districts are the same and the way the real slums and Favelas are built actually show a great creativity.
Eric said that the village-like piled up shacks make him feels like he is playing a game. He has to make shapes, colors and directions be balanced, rich but not messy. It is a process that makes it impossible to design things up front, and is in great contrast with the way he has been teaching his pupils for 28 years, since they have always been obligated to make at least three designs up front before starting to carry out one of them. In this way, Eric wants to make them aware of the fact that in the arts there are always more than one and often even many solutions possible to an artistic 'problem'.
Art is communication
Although Eric cares about the low level of living of the inhabitant and find it very sad people have to live like this, he does not think showing what he show will change anything about it. For Eric, slums offer him more artistic possibilities and challenges.
He knows that people get fascinated by all the details. Eric often get the reaction people keep discovering things they didn't see before and obviously it challenges them to keep looking around to try and grasp everything to be seen. Eric is very satisfied with this reaction, and he hopes that people can use their fantasy, strolling through his work, trying to imagine what it would be like to actually enter the representation.
Eric believes that art is communication. He hopes that people watching the work can understand that his works are not actually meant to give a social or political message. it is the result of following his feelings and the inspiration given to him by what he find in nature and in his own fantasy.
Keep the work true
Eric wants to emphasize to the younger freelancer: try to be original, stay close to your own ideas, personality and feelings and thus be as authentic as you can possibly be. He chooses not to polish his work was also determined by the fact he simply is no good at polishing. Eric doesn't choose to change, instead he made it what he call "handwriting". Eric said that if being analyzed properly, what seems to be a problem at first, may turn out to only offer other and sometimes even better possibilities later, and this goes for both art and life.